"There'll be parties for hosting, marshmallows for toasting, and caroling out in the snow", It's definitely the most wonderful time of the year. Everything is lit up, people are jolly, your house smells like holly (see what I did there?) and so on. When Christmas time rolls around, it's really hard not to come home with every adorable decorative holiday item you see on the shelves. Especially if you are like me and absolutely love everything "Christmas". So how can you keep your interior theme "Minimal" and still feel all the Christmas vibes? It's so easy to get drawn in by all the beautiful colors, sparkles, and designs of holiday decorations, but if you do, you'll likely end up with a very disorganized and over accessorized holiday home.
So how exactly do you achieve a perfectly minimal holiday home while still achieving all the Christmas feels? Although in the moment it sounds like a good idea to buy all of the things, it is definitely better to shop with a theme and color in mind. There are 4 tips I stick to when shopping for Christmas decorations that keep my glittery wants in check and my apartment less spastic.
Designate areas in your home for decorations instead of going all out and decorating everywhere.

Pick a specific holiday color and stick with it (unless you have a secondary color choice for a special space).

Pick items that can be used year round and at the holidays.

It doesn't all have to be specifically "Christmas" to look like holiday decor.
If you choose in advance all the spaces that will be designated as "Christmas decor" spots, your home is more likely to look well planned and less haphazard. Whereas, if you decorate willy-nilly all over your home, it will start to look like overkill and likely overwhelm your senses. (Bonus Tip: You are best to choose areas not often used in your day-to-day activities: I.E. Tv stand, couch side tables, disconnected bar areas, and extraneous counter space. Places not to choose would be bedside tables, coffee tables, desk areas and major kitchen counter space)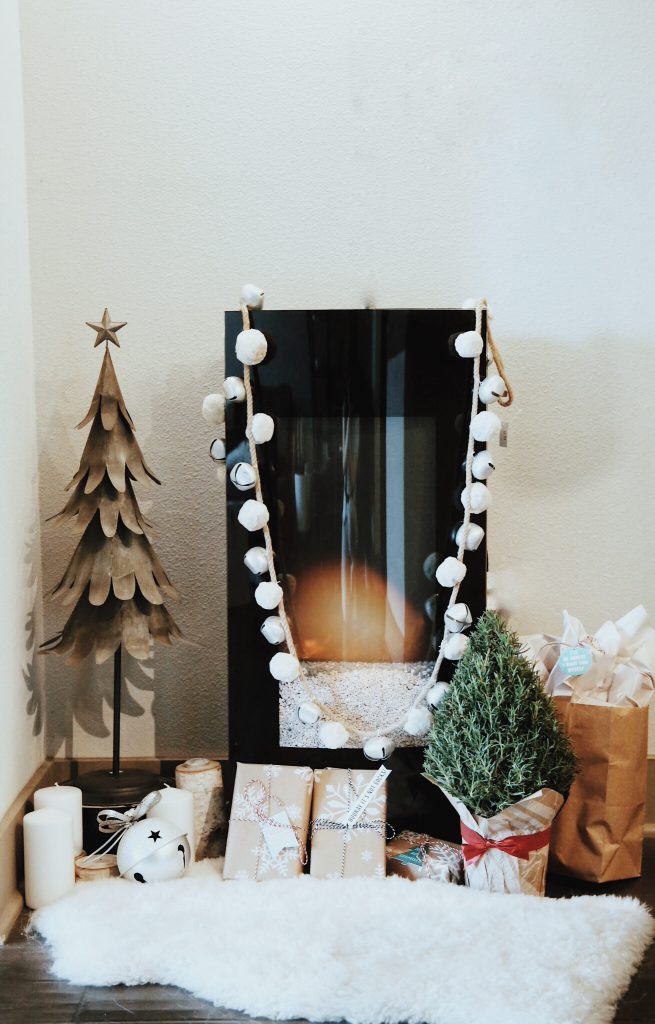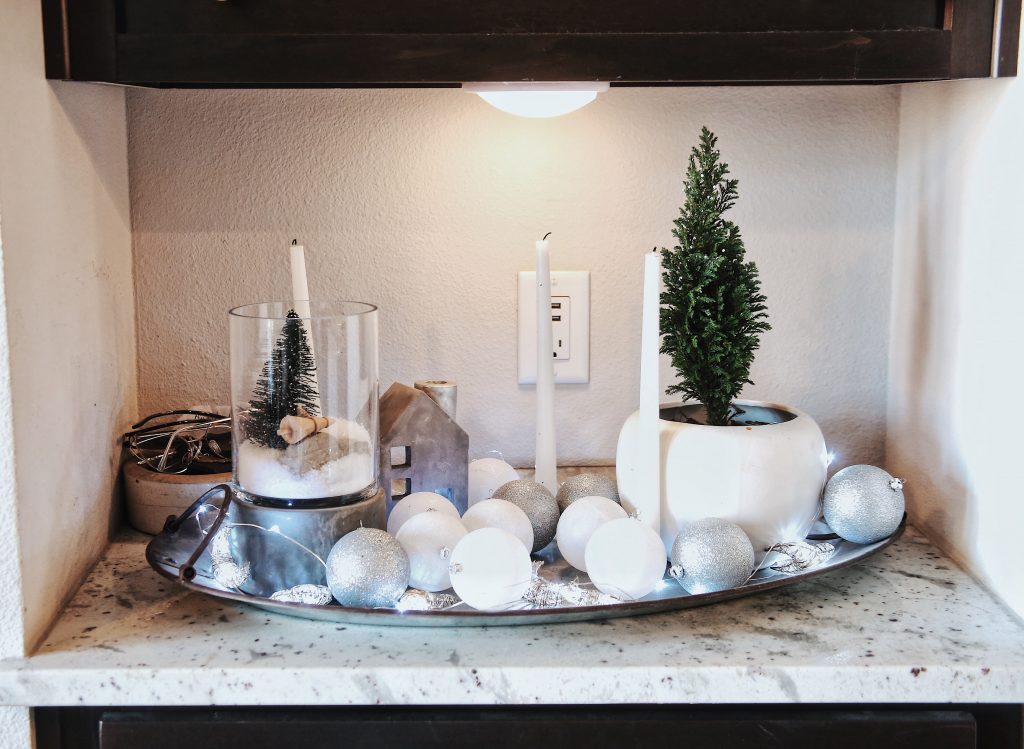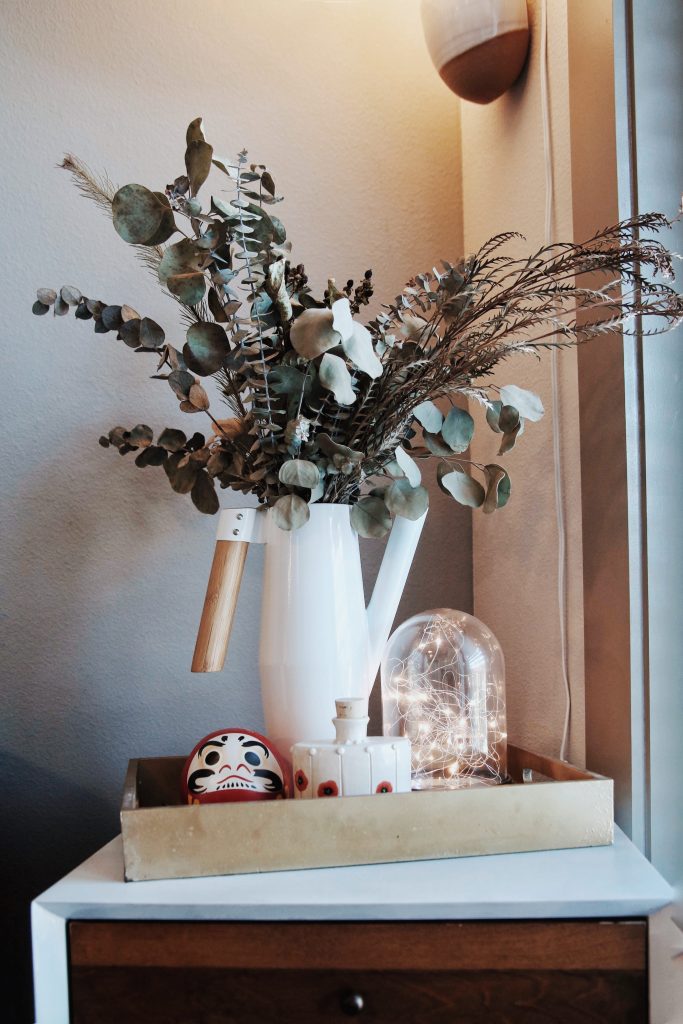 Choosing a specific theme and color for your holiday decor can be the hardest part (especially when you love them all). Think to yourself about what fits the colors of your home best? A classic blue and white combo? Modern silver and grey theme? Bold with red and gold? Or something completely different? For my place, silver, concrete, and small accents of gold worked best. ( Bonus tip: Some homes and apartments come furnished with mismatched metallic fixtures — which mine does –. If that is the case for your space, it is a good idea to consider mixing your metals in decor. )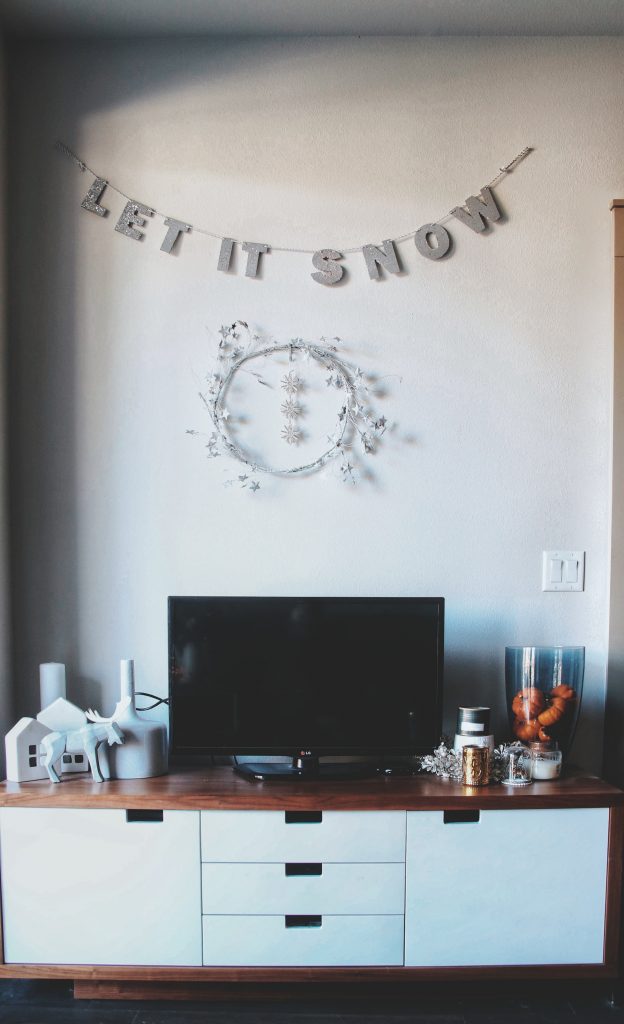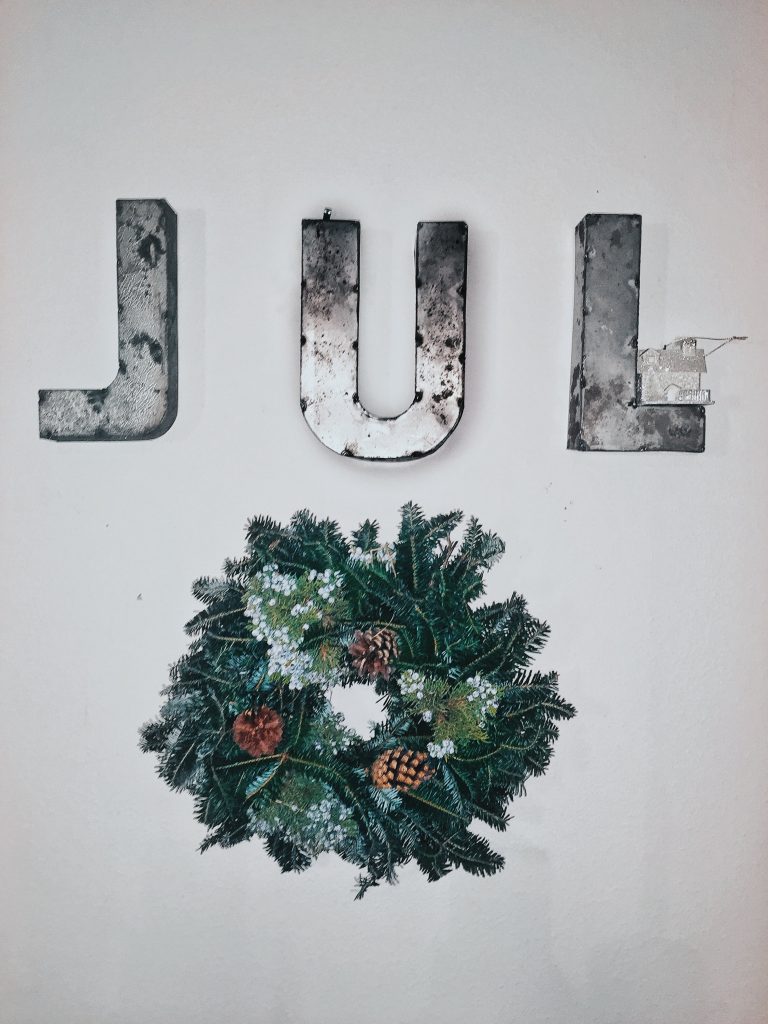 Choosing items that fit your "all-season" decor when shopping for holiday pieces can sound really disappointing, but it totally doesn't have to be. When you are low on space, it's smartest to make sure at least half of your Christmas decor is reusable for other seasons, that way you don't have to pack it all up as soon as the 25th passes by. (Bonus tip: Choose pieces like blankets, accent vases, candles, and maybe even a fake fireplace — like I have — as permanent features in your home to coincide with your holiday decor).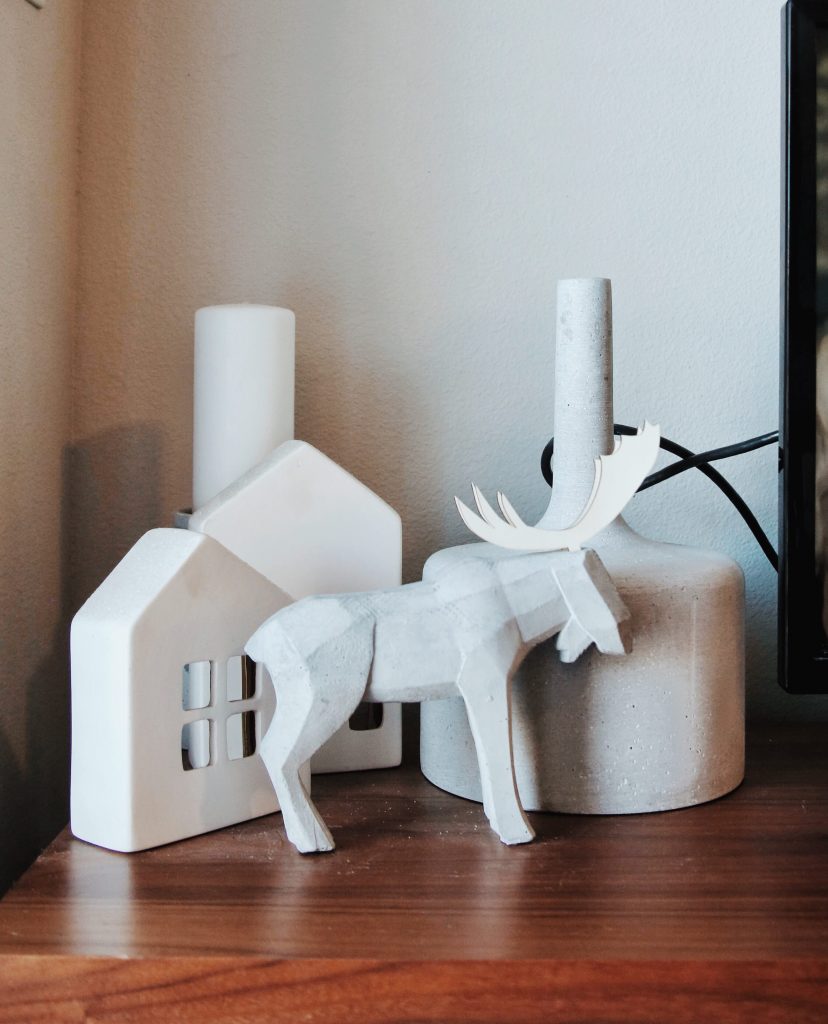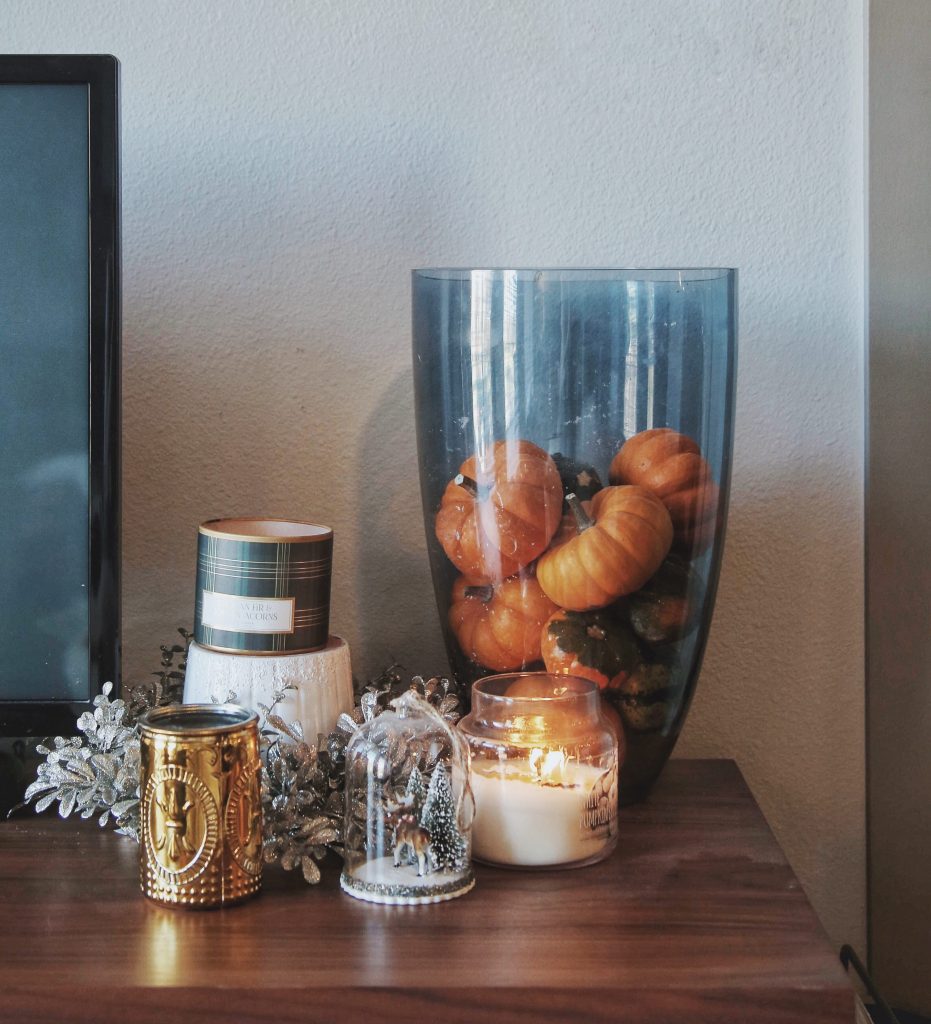 Last but not least, it doesn't have to be directly "holiday" to look and feel like Christmas decor. Sometimes just adding hygge or winter textures to your home can be all you need to give a room a "Christmas vibe". For example, switch out your blankets with fuzzy textures, add a faux fur rug to your floors, and showcase your favorite set of scarves etc.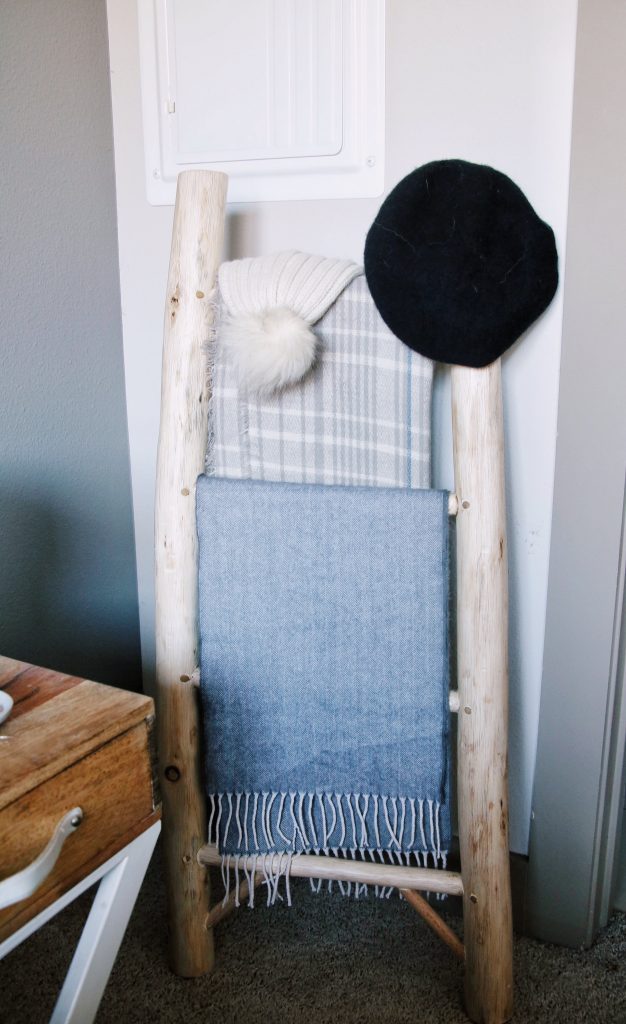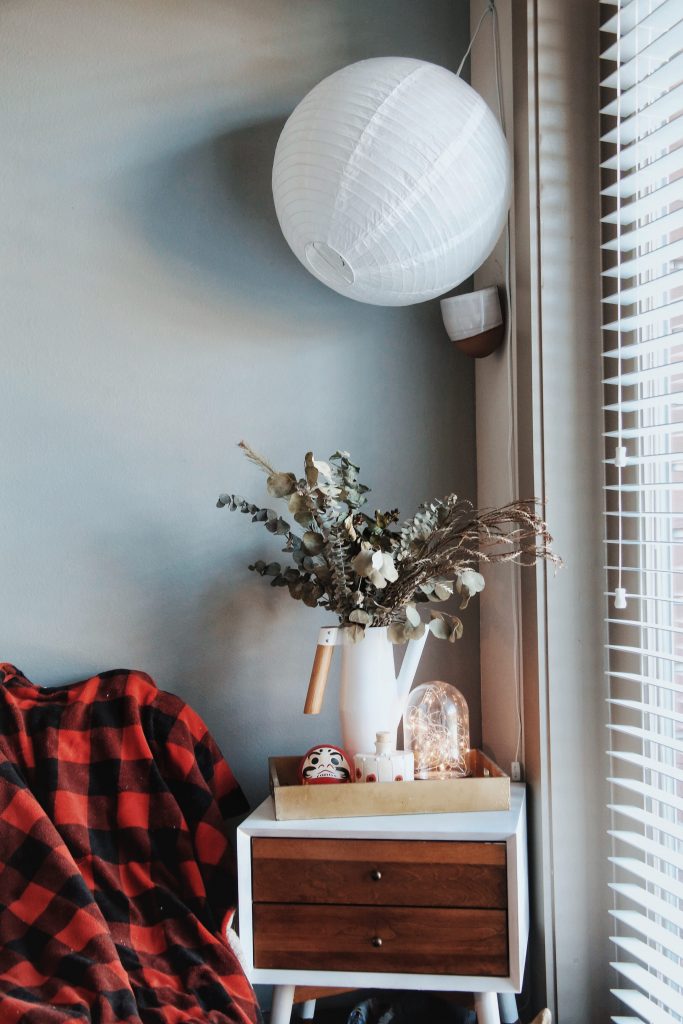 Random Bonus tips.
I find that adding as many real greenery accents to my home as possible, not only make my place feel more peaceful but also make a huge impact on the overall Christmas feel.

If you live in a home or an apartment that doesn't retain heat well, I highly recommended investing in a decorative space heater (like the fireplace piece I have). I keep it out year round, and it really does add so much hygge to my space.

I mentioned in the original step one that on occasion it was fine to step out of your designated color if you have a special space. I did that this year, as you can see in the photo of my side table with red and gold accents. My red durama and handmade poppy flask are year-round additions to my space, so I decided to work with that in this one corner by accenting it with a special plaid blanket.

Bonus tip from my mistakes, be sure to measure your space before excitedly purchasing your Christmas tree. If you don't you'll probably end up like me with a sad, squished Christmas tree in a space way too small.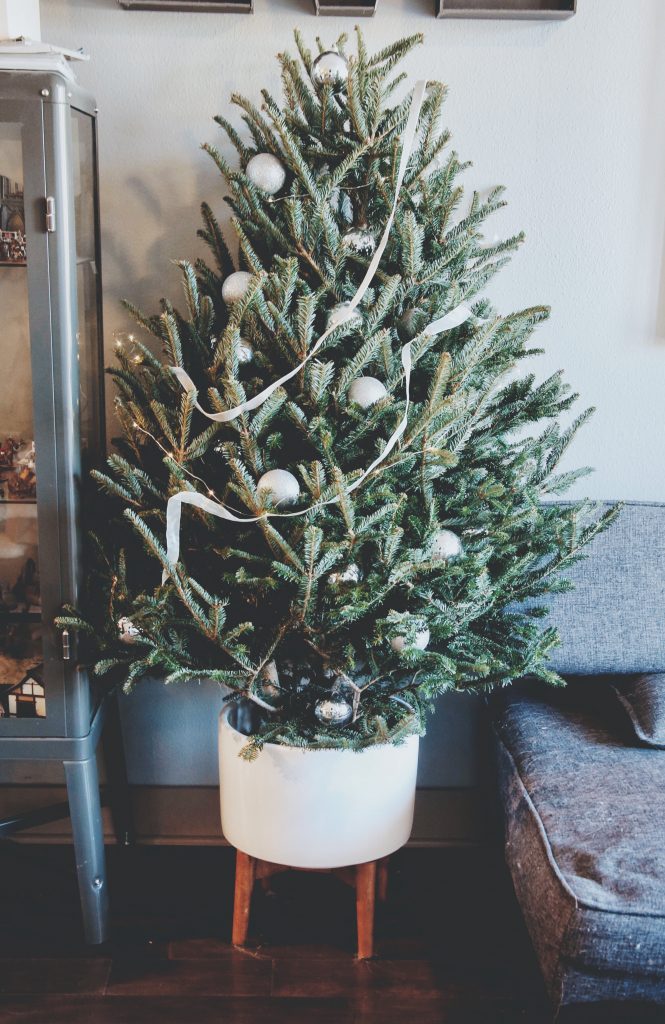 I hope this post helps inspire you to decorate your home with more than just the holly-jolly in mind so that you can have a clutter free "Most wonderful time of the year".