Meal planning, ugh! I love cooking, but meal planning is not my forte. Ben and I both have such vastly different dietary needs due to various health problems, so it's really hard for me to meal plan when generally we can't eat the same foods. What Ben can eat, I generally can't. What I can eat, Ben almost never can. So meal planning for the two of us gets expensive and frustrating when I have to purchase for two different menus. After lots of experimenting I finally found a menu item that works for the both of us, is super tasty, relatively healthy, and really inexpensive — minus avocados it only costs about $20 to make about 8 servings (Thank you KROGER!).
The overall idea of the meal is a bento style take on the classic burrito bowl. Burrito bowls work so well for pack-and-go meals because, honestly, the ingredients taste even better when they marinate together — plus wrap some fresh tortillas in foil and you can take them along to mix it up. Also, they look really cute once packaged up and are sure to impress your partner's workmates. And YES, I do totally try to make his meals cute to make him look cool in front of his coworkers.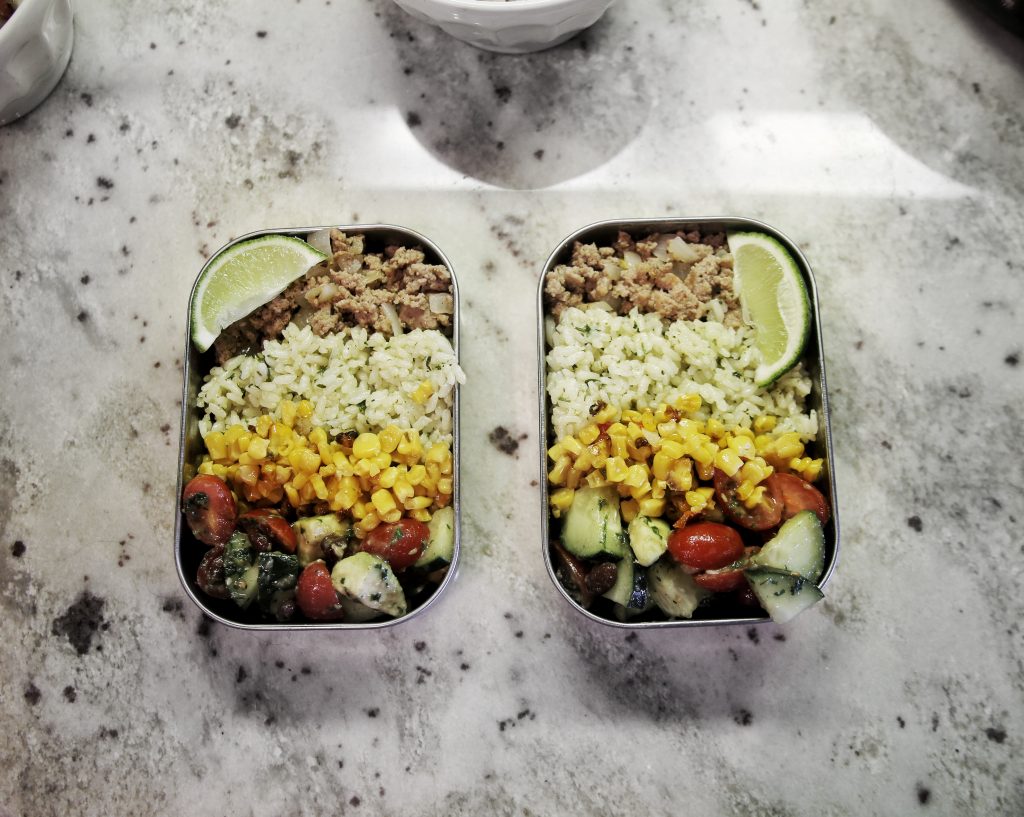 This recipe is really simple and time schedule friendly, it only takes about 30-1 hr to make. It comes in about 4 steps. Step 1: Avocado-tomato marinade. Step 2: Oven roasted cumin corn. Step 3: Cilantro-lime sticky rice. Step 4: Spiced and Sauteed onions and ground turkey.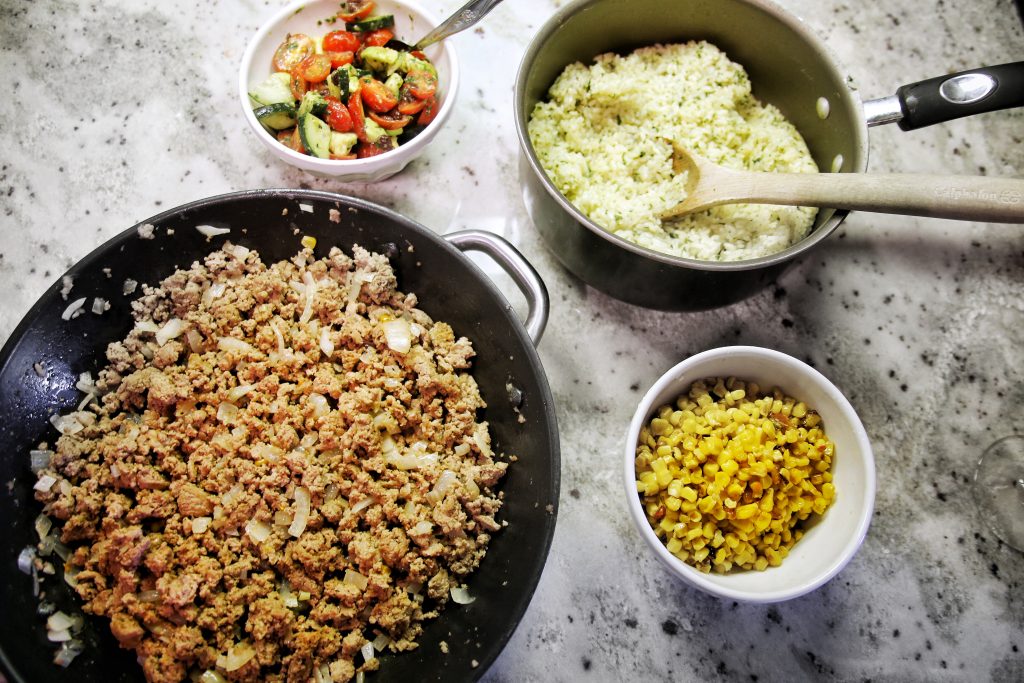 Ingredients list:
Avocado-tomato marinade:
2 Packages of Cherry tomatoes
1 12oz can of black beans (Washed well!!!)
2TSP chopped fresh cilantro
1 cucumber — quartered and chopped
2 tablespoons of rice wine vinegar
Oven Roasted cumin corn
1.5TSP cumin (or more, I'm terrible at measuring spices because I generally just throw things in until I like the taste)
Hungarian smoked paprika ( Here I do about 3-4 "shakes" )
Cilantro-Lime Sticky rice
2 cups rice ( Be sure to soak your rice for 30 minutes in warm water before cooking)
2 Tablespoon finely chopped cilantro
1 Tablespoon Knorr powdered chicken broth
1 Tablespoon of butter ( I like challenge butter, it's cheaper and I really like the flavor)
Spiced and Sauteed onions and ground turkey
2LBS of 85% lean ground turkey
2 yellow onions finely chopped
2 Tablespoons (or 1 and a half depending on how spicy you like things) Nolan Ryan's steak seasoning
1 Tablespoon olive oil ( the 85% lean ground turkey is really dry and needs the extra oil)
Directions:
I find it easiest to start with the marinade because I like it to sit for a good while before serving.
First, halve your tomatoes. I normally only use 1 and a half packages of cherry tomatoes. Add them to a metal bowl. Next, dice your avocados and add to the same metal bowl. Cut your cucumber in half (lengthwise) then cut each half in half (lengthwise), then dice and add to bowl. Put your canned black beans into a colander and rinse off WELL ( be sure to leave them to dry a bit too). While the beans are drying add your cilantro, lime juice, rice wine, and salt. Finally, add the beans and toss well.
Set your oven to broil, and get out your lightest baking sheet ( Dark colored baking sheets will burn your corn ) thoroughly coat the baking sheet with olive oil. Open and drain your cans of corn. Once drained mix your tomato paste to a medium-sized bowl and add corn. Toss well. Once this mixture is fully coated in the tomato paste, pour your mixture into the baking sheet and toss with the olive oil. Season up with all your spices and toss one last time. Place on the middle rack of your oven and let sit until the corn along the edges of the pan begins to burn (Yes you lose some corn to burning, but it's the best way to know when the corn in the center of the pan is crispy)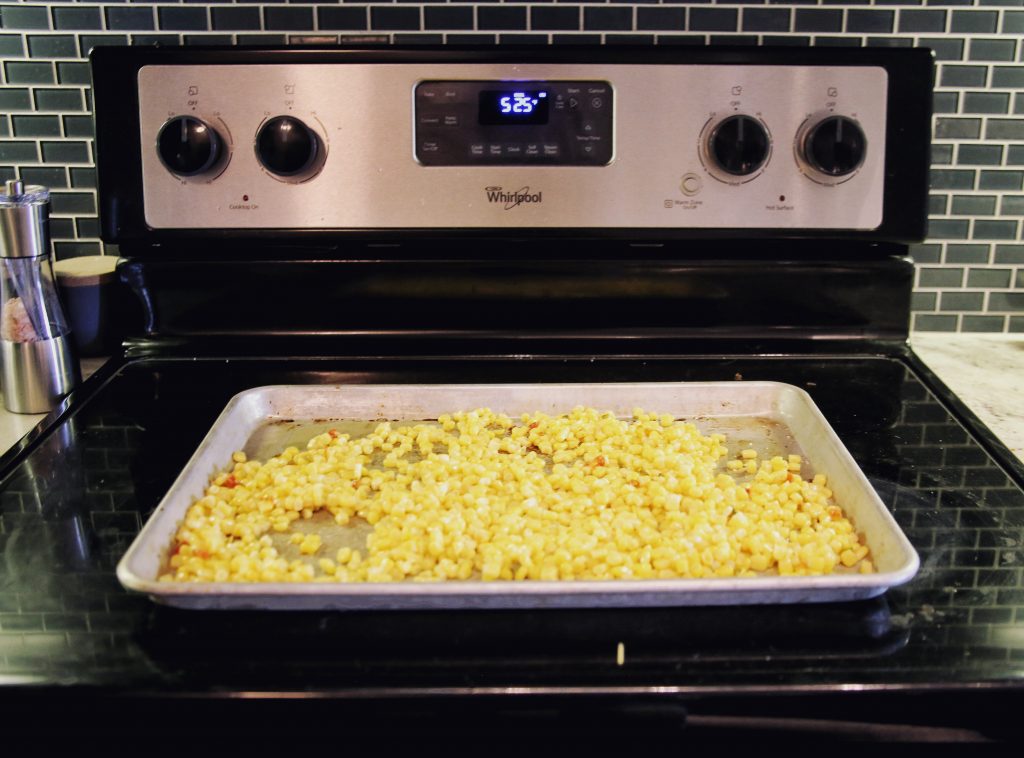 For the cilantro lime sticky rice, the very first thing you need to do is rinse and soak your rice. This is not the most common practice in American cooking, but it's something I've learned from cooking Japanese cuisine. It makes all the difference in how your rice turns out. Put your two cups of rice in your saucepan, and fill with warm water until the rice is covered. Let the rice sit for at least 30 minutes. After soaking, thoroughly strain the rice and add back to the saucepan. You'll now add two and a quarter cups of lukewarm water to the rice. Add in your powdered chicken broth, a tablespoon of butter, lime juice, and cilantro. Place your rice on the stove uncovered on high until the rice begins to boil. Once rice is boiling add a cover to your saucepan, turn your burner down to low, and leave the simmering (UNTOUCHED do not open that lid!!) rice for 11 minutes. Once your time is up, move the saucepan from the heat and fluff your rice with a fork. This rice is going to congeal, that's what you want. I find that sticky rice reheats much better than regular rice, which is why I tend to use it in my meal planning.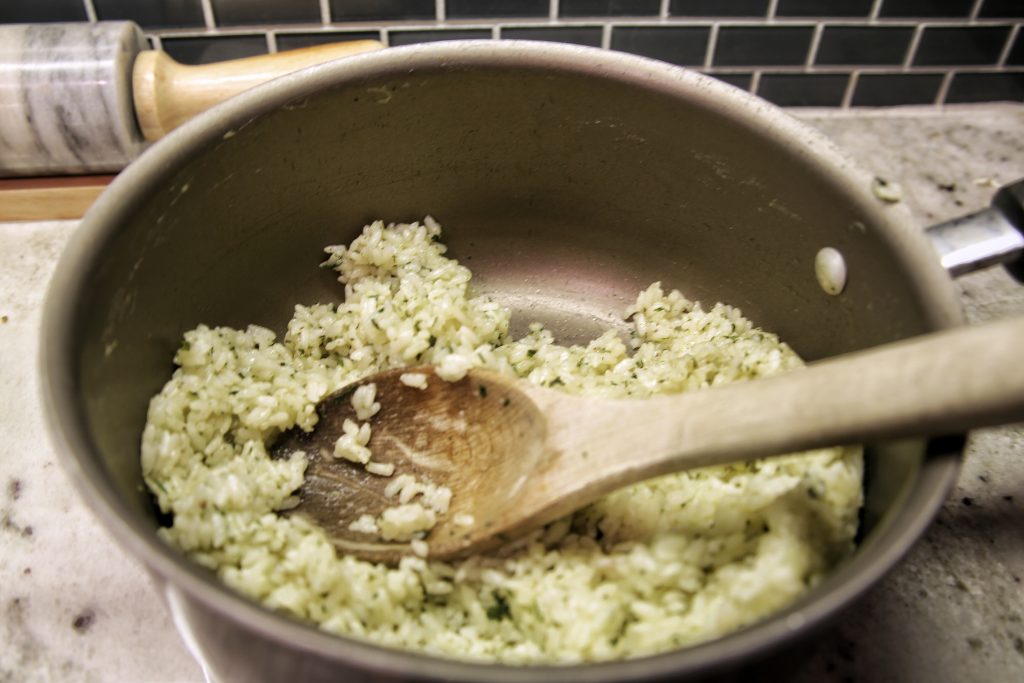 Last but not least, it's time to saute your onions and turkey. Put a large skillet on the burner you just used for your rice ( I hate waiting for my burners to reheat so I like to keep one on low while I'm cooking). Add your olive oil to your skillet and make sure it totally coats the bottom of the skillet. Chop your onions roughly, I like mine in chunks. Saute your onions until they start to turn golden, and then add your ground turkey. Since the turkey is 85% less fat it's not going to be very flavorful, so you will really need to add the salt, pepper, and steak seasoning while the meat is still raw (It soaks in much better that way). Saute until the meat is fully cooked to your liking.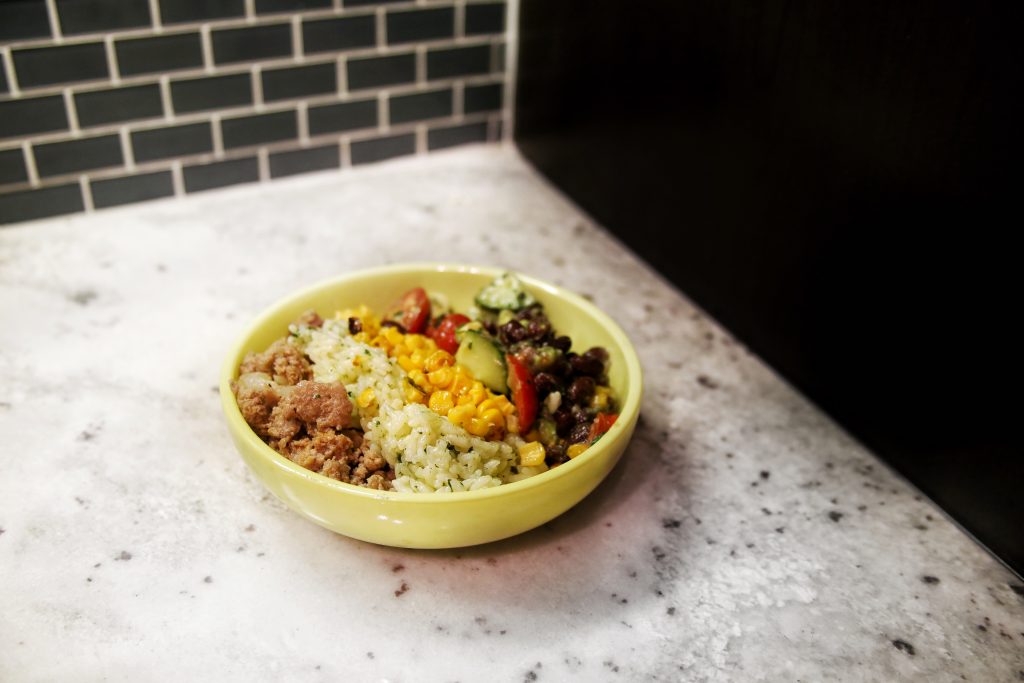 That's it! You're all done and ready to plate and enjoy! If I'm eating this at home and not just as a meal prep, I like to add some shredded cheese and sour cream on top while the meat is still hot so it melts all in. Yum!
I hope you love this recipe as much as Ben and I do! I hope it makes your meal planning just a little bit easier, cheaper, and of course faster so you have more time to get back to enjoying life!