Little known fact about me – I am a super gifter. Okay, okay that may be a little bit narcissistic, but those who receive my gifts usually say I do a pretty good job getting something that they love. Last year I actually did a little side hustle during the holidays creating dynamic gift guides for clients for their hard-to-shop-for relatives and friends. Since that little business was a hit last year, I figured, "Why not offer my services to my readers as well?!". So, over the next 6 Fridays until Christmas (don't panic, there are more than 6 Fridays until Christmas), you'll be able to find a specialized gift guide for one often requested hard-to-shop-for person. Today's edition is featuring what I find often to be the hardest: In-laws and parents.
How can you give back enough to the people that gave you or your spouse everything? It's so hard right? Today I've lined up some of my favorite gift ideas sure to bring a sparkle to the eyes of the parents in your life.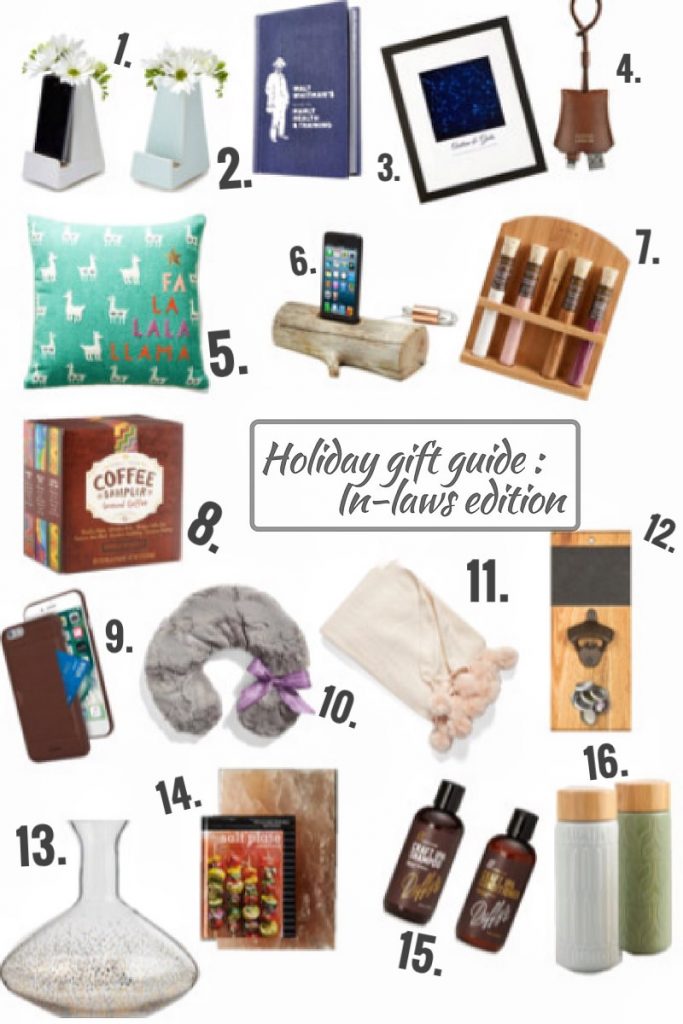 #1 Is for a mom or mom-in-law that loves decor that is functional and stylish. Coming in at $32 a vase, this is a unique gift that is sure to surprise without breaking the bank! Shop here: Modern Bedside Smart Phone Vase
#2. Walt Whitman's Guide to Manly Health & Training: When I saw this it just gave me a good chuckle and I love the creative idea behind it! It's a collection of 19th-century commentary and quips about dress, food, health, and exercise. All of the advice and tips included are excerpts from a Walt Whitman newsletter from 1858. Shop it here "Walt Whitman's Guide"
#3. I am seriously obsessed with this one. I have been wanting one for myself and I think it is just one of the sweetest gifts for almost anyone. You can choose any date: a birth, an anniversary, a special moment you shared, etc; and you can have a custom star chart created! It includes a photo of what constellations were above during that special moment! Find it here "Personalized Constellations of Love".
#4. What guy in your life doesn't need or want something like this? Lightning cords come and go (ahem, break) constantly, but this lightning cable by Native Union is build to last. Plus, let's be real, it looks awesome, manly, and stylish! Find it here "Native union TAG lightning Cable" 
#5. This pillow is a little bit quirky and may not work for every mother-in-law or fabulous interior designer mom, but I have just found the llama themed holiday gear to be hilarious, sweet, and out of the ordinary! Shop it Here "Fa La Llama Pillow"
#6. This one could go for either the tech mom or dad in your life. I love the driftwood vibe that works for both modern homes and the ever popular farmhouse decor vibe. This is a gift that is both practical and gorgeous! Shop it here "Driftwood iPhone charging stand"
#7. Everyone thinks their mom is a super chef ( mine totally is though) and for all those super chef mamma's out there, this gift is a no-brainer. This spice lab collection is just a beautiful kitchen addition and it is also so useful! I know my mom enjoys testing out new spices but doesn't always want to pay the high spice price to learn new flavors. You can purchase the Spice lab salts collection here.
#8. Who doesn't love coffee? I mean, as a human world unit, we pretty much live on it! So why not spoil your coffee lover with a passport to the world with this amazing mixed coffee sampler coming from Hawaii, Columbia, Brazil, and Ethiopia!? Shop the Coffee Sampler here.
#9. What guy doesn't get sick of carrying around both an oversized smartphone and a wallet? They're both bulky, and we all know our guys (dads included) are most likely carrying plenty of things for the rest of their family in their pockets too. So why not help them cut down on the bulk in a stylish way with a Native union leather wallet and phone case all in one! Shop it here "Native Union leather card carrier"
#10. Every mom in the world out there deserves some TLC, moms-in-law and your very own mommy are no exceptions! What better way to relax than a little bit of muscle relaxing and aromatherapy. This beautiful Lavender warmable neck pillow is from Sonoma. Find it HERE
#11. Blankets are just something you can never have enough of. If you (or your in-laws) are like me, or my mom, no matter the weather outside, we love to snuggle up in a blanket in a cool house at the end of an evening. This gorgeously crafted faux fur throw with pompoms is not only a beautiful home accent but also an item that is likely to be well used and well loved! Shop this gorgeous faux fur through here.
#12. Time for something for the man cave. I saw this at one of my friend's houses over the Halloween weekend, and I just thought it was the cutest guy gift and such a great DAD gift. I mean this one has dad written all over it. It can not only be monogrammed but also it opens all your bottles and has a magnetic catcher so you don't end up with bottle cap mess. Shop this amazing dad gift HERE
#13. Now that we've got Dad's beer needs covered, let's get mom-in-law a little something to make her wine-down time a little more sparkly. This gorgeous decorative carafe can be used for festive occasions or just the daily glass of vino. Shop this Confetti decanter here.
#14. I'll admit I may or may not have put this one on here because I think it's awesome and have possibly wanted it for myself in the past. That said, this is the greatest gift for the grillmaster. This fabulous Himalayan salt block platter is a creative way to add subtle nuances of the beautiful Himalayan salt flavor most of us love. Coming along with an instructive cookbook as well, this block is pretty much the "cookie tray and recipe", but reimagined for the grill lovers. Shop this gift HERE
#15 This one is for all the dads out there with a great sense of humor and a thick head of hair. IPA Beer shampoo and conditioner set courtesy of UncommonGoods.com is definitely going to tickle his sense of humor and his sense of smell! Shop this gift HERE!
#16 Finally we have made our way to the end of my list. My last item is a killer of a deal, and happens to be something that almost everyone is using these days. Carryable, coverable carafes have been hugely popular over the last year. Be it painted plastic with a straw, crafty faux glass with a quirky quote, or classy ceramic carafe, portable drink wear is bound to be one of the most gifted items this year! So, kill three birds with one stone, and buy this beautiful set of three ceramic drinking carafes from worldmarket HERE.
Just in case any links above aren't functioning, I've added a ShopStyle affiliate shopping bar below with photos and shoppable links. (Remember, affiliate links do not affect prices, but do help me keep this blog alive and thriving!)
I hope this gift guide, the first in a series of 6, has been both helpful and inspiring as you begin your holiday shopping adventure!