$50 doesn't equate to all that much; one evening dinner out, two small cars filled with a week's worth of gas, one pamper sesh at the nail salon — if even — so, not a whole lot. But what if it could? What if that $50 could drastically change your monthly budget and long-term finances?
According to a News Gallup poll, the average American spends a grand total of $151 a week on groceries. That's a lot almost 8k a year!! What if I told you that for a family of two, you could actually cut that budget all the way down to $50 a week (2.5k a year) and still feast like kings? Well, it's totally possible!
During the entire Month of September Ben and I cut our budget in half, and tried our very best to save every nickel and dime with the holidays upon us. At first, I was concerned about what in the world I was going to be able to cook. To my amazement, the recipes I was able to come up with were some of the best dishes I've made to date (and of course some were flops). So today I'm going to share with y'all my favorite dishes that I made on my $50 weekly budget!
(P.S. Tips, Shop your supermarket brand instead of name brand when possible, use online or newspaper coupons, utilize your local supermarket's loyalty cards! Also try to make as many recipes as possible that have similar ingredients — for example I made all of these dishes in the same week, so I had a gallon of almond milk, 3 lbs of yellow onions, 3 buds of garlic etc. that way I didn't have to buy them over and over again as they go bad)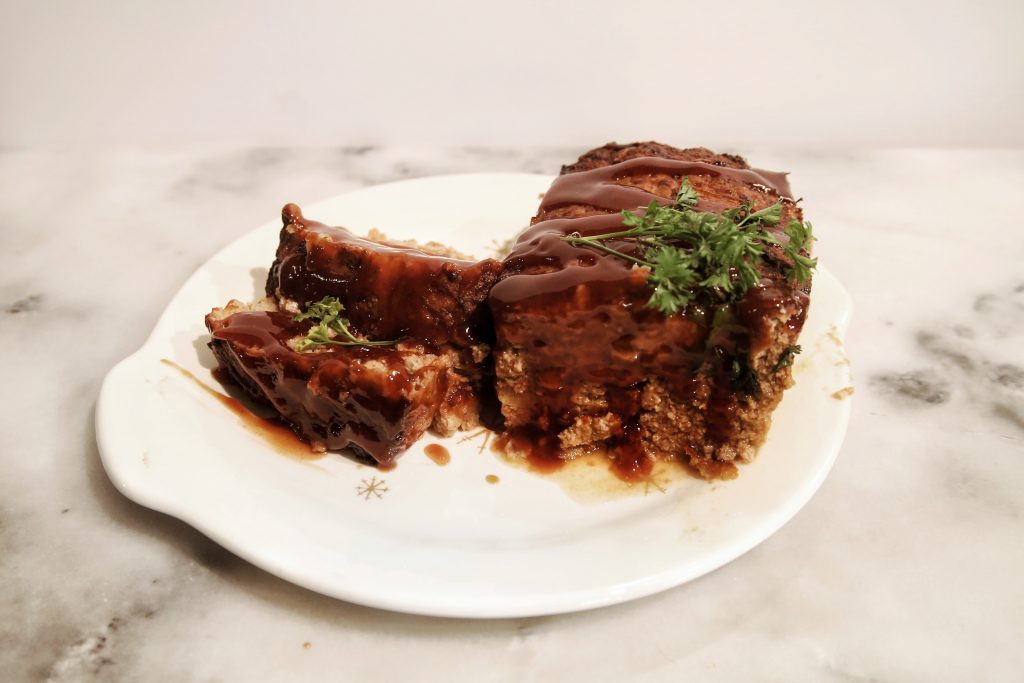 Not so classic Meatloaf (5 servings)
2 LBs Lean Ground Turkey

1 cup Ritz crackers crushed ( For a gluten-free version you can use Chex cereal!)

1 egg beaten

½ cup ketchup

1 cup milk (I used almond milk)

1 Yellow onion coarsely chopped

½ Teaspoon garlic salt

½ Teaspoon onion powder

¾ cup ketchup

Salt and pepper to taste

( I literally never measure my salt and pepper so I have no clue how much I put in haha. I also used Himalayan salt since that's all I keep on hand)

¼ cup brown sugar

1 Tablespoon Worcestershire sauce
Preheat your oven to 350 before you get started on anything. Grease and prep a 5×9 loaf pan (I didn't have any cooking spray on hand, so I just greased it with butter the good old fashioned way).
Now, it's time to get messy. Combine your turkey, Chex or Ritz, beaten egg, yellow onion, garlic salt, onion powder, salt and pepper, your ½ cup ketchup, and milk. Mix everything thoroughly with your hands until completely combined. Once combined, pour your meat mixture into your greased pan. Be sure to place your pan either on a rimmed cookie sheet to catch any sauce the bubbles out as it cooks.
Cook your meatloaf for 1.5 hrs.
In a small bowl combine your brown sugar, remaining ¾ cup ketchup, and Worcestershire sauce. (I'll be honest, the meatloaf came out so moist and delish, the sauce wasn't totally necessary)
All these ingredients, purchased at Kroger with my discount card and downloadable Kroger coupons cost $15.55 (this price is including the cost of milk, eggs, or onions in case you didn't have them on hand, so keep in mind it's the cost of an entire gallon of milk, package of eggs, and 3 pound bag of yellow onions)
(As a side dish for the meatloaf I made some simple mashed potatoes using only ingredients I had on hand)
Garlic Mashed potatoes (Serves 6)
2 lb red potatoes

¼ cup butter

½ cup milk (Again I used almond)

2 cloves garlic ( or garlic powder to taste if you don't have garlic on hand)

Salt and Pepper to taste
Boil your potatoes until fork tender, it took me about 30 minutes on a rolling boil. Strain your potatoes once tender. Mix well in either a stand mixer or hand-held, with all other ingredients and you're done! While I did have all these ingredients on hand, the cost of this dish would be $8.47.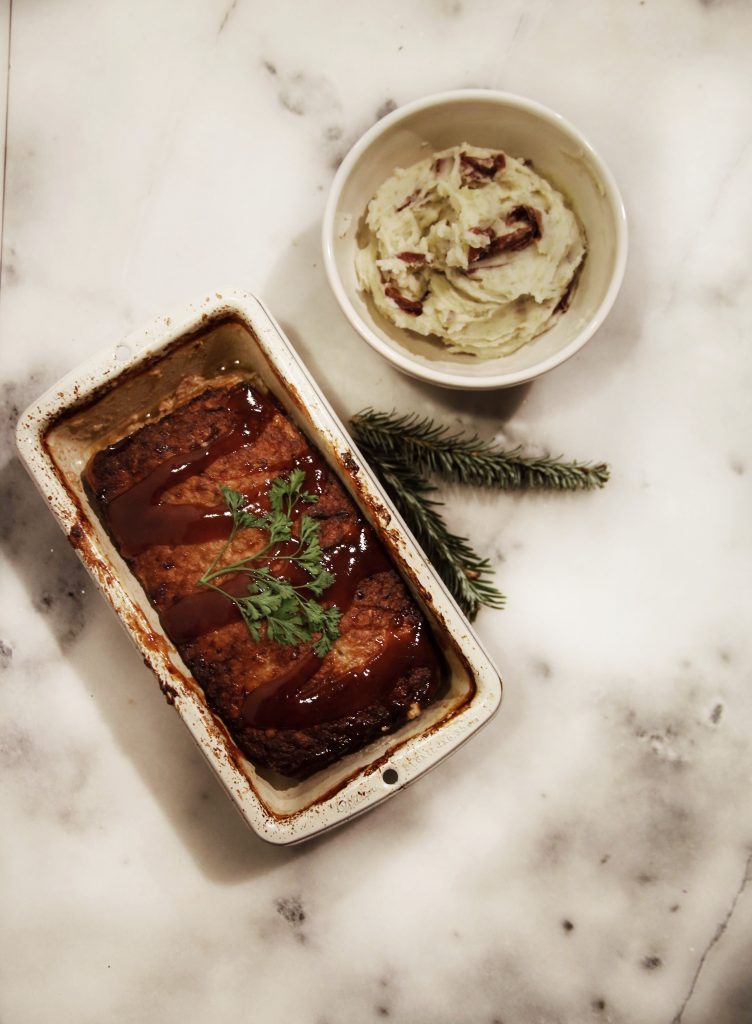 Next up was, in my opinion, the most decadent and craveable dish I have possibly ever made. I'm not even lying when I say that I ate the leftovers from this one for 3 days straight for lunch, it was so good!!
Decadent Wild Rice and Mushroom Casserole (Serves 8)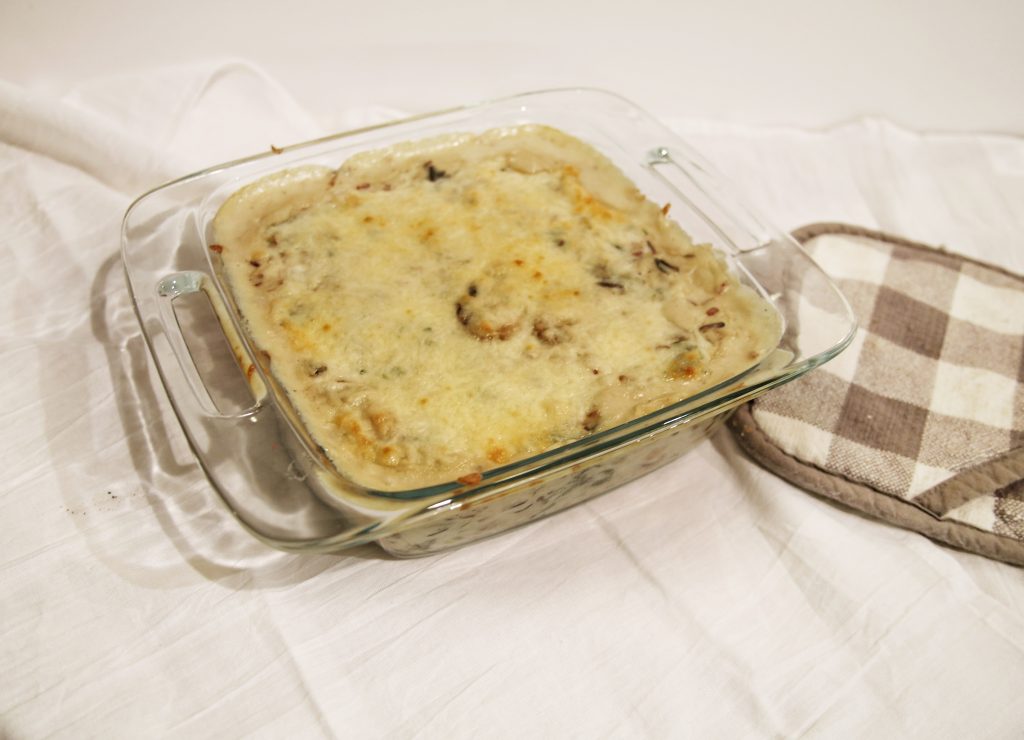 3 Tablespoons olive oil

1 cup yellow onion diced

1 Tablespoon chopped garlic

( or again you can substitute garlic powder to taste, I often do because I hate working with garlic )

8oz package baby Bella mushrooms

Salt and pepper to taste

( again I only use Himalayan salt but you can use any kind you like)

One large bunch of kale with center veins removed

¼ cup all-purpose flour

2 cups veggie broth

1 ½ half-and-half

1 cup shredded mozzarella (Or any other melty cheese! Mozz was just on sale!)

2.5 cups cooked wild rice
Cook your wild rice according to the directions on package ( I just let my wild rice cook while I was prepping everything else!)
Preheat your oven to 350, grease up your 2-quart casserole dish (Or honestly any oven safe dish that is rectangular).
In a large skillet, and I mean large, heat your olive oil and saute your onion, garlic, and mushrooms until the onions become translucent, stirring occasionally.
Once translucent, about 10 minutes, add in your de-veined kale until wilted. I also added two handfuls of fresh spinach because I had it in my fridge, but that's totally optional.
Once everything is wilty and fragrant, add in your ¼ cup of flour, stirring well, and cook for 1 minute. Slowly add your cream ( I recommend microwaving your half-half for 15 or so seconds to make sure it doesn't curdle when adding to the hot skillet) and your broth. Stir constantly until thickened, about 5 minutes.
Around about now, your rice should be cooked. Add your freshly cooked rice, and half of your cheese and mix well. Pour into your greased dish, top with remaining cheese and cook in your preheated oven for about 30 minutes until bubbly and fabulous.
Total recipe cost, if you count buying everything in full (3lbs onions, a gallon of milk etc) $13.62 (great meal for a meatless Monday!)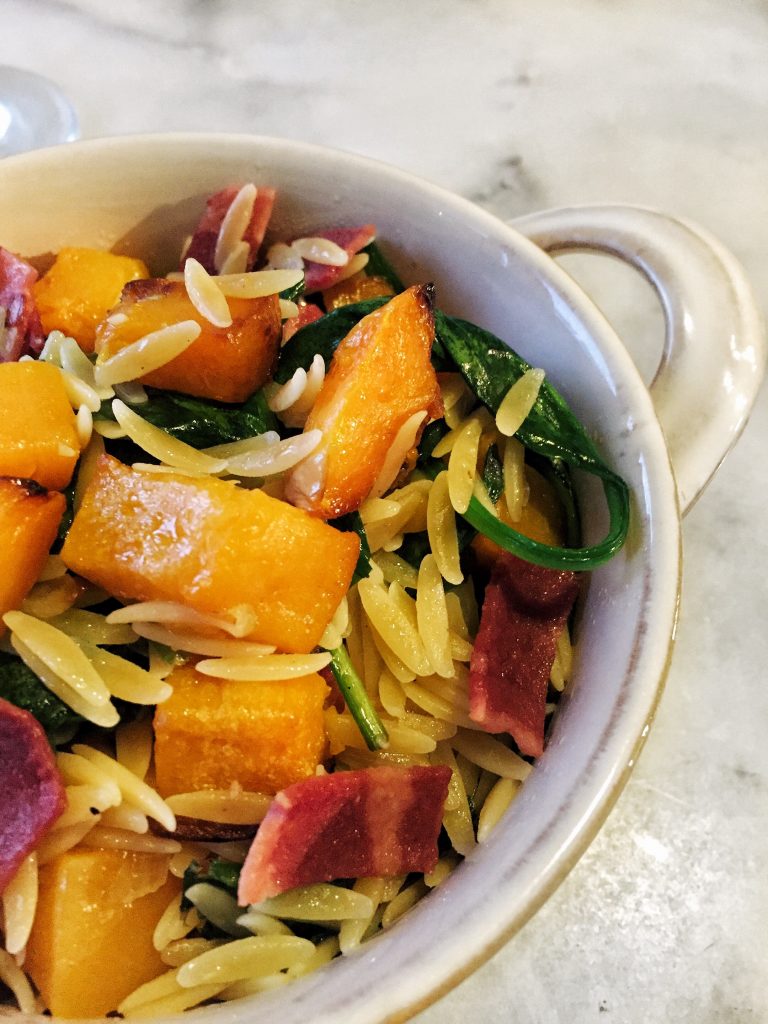 Fall Flavored Orzo (Serves 4)
1 Large butternut squash

1 cup of Orzo

3 cups (I prefer handfuls) spinach

2 Tablespoons olive oil

1 clove minced garlic

Salt and pepper to taste

Turkey bacon (oven roasted. additional if you want to add some meat)
Microwave your butternut squash for 1 minute. Take it out of the microwave carefully, hot pads may be required. Carefully cut off the top and bottom of the squash stand it on a cut end, and peel off the hard skin (It's easiest to do this with a knife as opposed to a veggie peeler).
Preheat your oven to 425. Chop your squash into ¼ inch cubes. Coat in olive oil and place on a rimmed baking sheet. Roast for 40 minutes, tossing occasionally.
While your squash is roasting, boil your orzo according to instructions on package. Once soft, drain orzo reserving some pasta water.
In a skillet, warm some olive oil, then add your spinach and garlic until spinach becomes wilty adding 1-2 tablespoons of pasta water. (about 1 minute of cooking time).
Add butternut squash and orzo to your skillet, toss well and season with salt and pepper to your liking! Overall this dish cost, including turkey bacon, $8.93
Altogether, these delicious recipes cost a whopping $42.95! They were delish and made tons of leftovers that I could pack for Ben's work lunches. I also had lots of ingredients leftover to make even more meals! They also mix and match really well with so many other dishes! I hope these recipes inspire you to try your hand at breaking down your weekly budget and try something new this month!