I am the world's worst serial over-packer. I pack way too much, and somehow still manage to leave out the most important items. Or I pack so much that I'm completely overwhelmed when trying to get dressed each day of vacation. If you are like me, then, we are basically adding stress where stress isn't needed! Vacation is all about relaxing, and if you've over-packed, or under-packed, it's highly likely that you will waste your precious time stressing instead of chilling!
I've tried my best to compile a list of, what I find, to be the most necessary outfit and toiletry basics for a week long tropical vacation, so you never have to worry about over-packing again!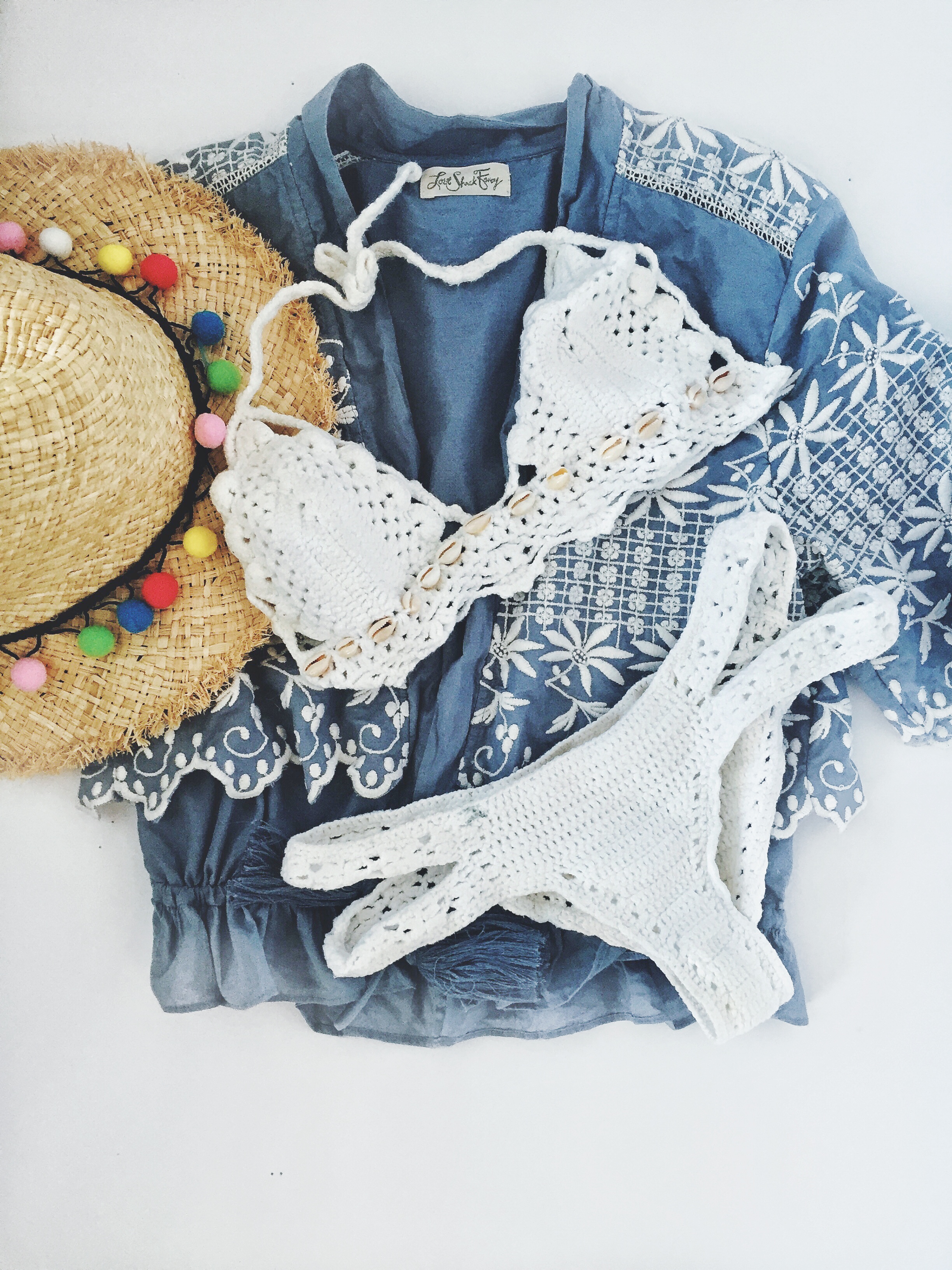 Two pairs of denim: One light wash one dark wash; one skinny, one styled. You never know when you might hit a rainy day, or head out to a restaurant that doesn't allow for shorts, so these are a must!  
A Romper: For the day, about halfway through your trip when you are tired from all your adventures and just don't want to deal with creating an outfit, a romper is the perfect fix.
Dresses: Similar to my reasoning for rompers, dresses are essentially a pre-styled outfit. Plus, they are super comfy and lightweight for tropical temps. I usually take 3 formal dresses, and 2 casual dresses ( one maxi and one mini)  with me on vacation ( I know it sounds like overkill, but I like to change half way through the day sometimes. )
Shorts: These are a must for every tropical adventure. More than likely you'll spend 75% of your vacation time in these, so make sure your shorts go with everything! Forget prints or bright colors. I usually take 3 pairs of shorts, two denim, and one white. ( this time around I'm taking an embellished pair just for fun)
Swimsuits: Again, are an absolute must for any tropical retreat. I try my best not to over do it on swimsuits, but seriously, no one wants to re-wear a wet swimming costume, so I usually pack 4. Two bikinis, and two one-pieces ( for the days where you have definitely eaten more than necessary).
Tops: Personally, I prefer to bring, bright, fun, printed tops ( think off the shoulder, ruffles, and the color yellow) on vacation with me as opposed to t-shirts. I find that in warmer more humid temps, I dislike the way t-shirts cling to me as opposed to the materials in most blouses. I generally take about 5 tops with me.
Rain Coat: We all know it's inevitable, in the tropics, rain will happen! So pack a small, lightweight rain coat that can be rolled up and stored corner pocket of your suitcase for that unexpected shower.
Hats: Ugh, packing hats, we all hate it. I know, it's a huge hassle, but you will definitely need them for those days you just can't be bothered to fix your hair. I take two hats. One Ball cap and one floppy straw hat ( this time I'm taking a little turban hat for beach days too because my head sunburns like no other!).
Sandals and slides:This is the first vacation that I have forced myself not to pack any heels…okay well one pair of sandals has a one-inch chunky heel, but that doesn't count, right? So I'm thinking, one pair of slides, one pair of strappy lace-up style sandals, and one suede dress sandal– the one with the one-inch heel–. And please, for goodness sake, throw those flip flops away and take something else!
Sneakers:Not a necessity (unless you are flying to your destination or hike often on vacation) But it's almost never a bad idea to pack one small pair of sneakers. Think Adidas superstars.
Backpack and crossbody: Depending on your destinations you may need only one, or you may need both. I'm headed off on a cruise, so a crossbody is far more practical ( Harder for criminals to pickpocket or possibly add unwanted items to your bag).
Sunshades: and lots of them! The worst thing is when you lose your sunnies and have to pay a high price at a tourist shop to get a new pair!
Waterproof Phone Cover: For more than one reason, first off, we all know accidents happen and our phones go for a swim, but secondly you can usually attach a lanyard so you can clip the waterproof case onto your outfit or wear it on you so you are way less likely to misplace it or have it stolen.
Other things you just gotta have:
–BB cream with sunscreen

–SPF spray and creams

–After sun care, think aloe

–Comfy cut pajamas

–vitamins and supplements (keep vacation colds at bay!!)

–Camera (Or instant cameras, I love having those)

–Curling Iron (forget the blowdryer, hotels and cruises always have them!)

Hope this post helps you prep for your next big adventure!